Problem
A lot of military equipment still in use today was designed in the early 20th century, when the warfighter demographic was nearly 100% male. These older systems—some of which date back to WWII—must be modified to accommodate increasingly sophisticated and demanding missions by a warfighter population that is significantly different than it was even 30 years ago.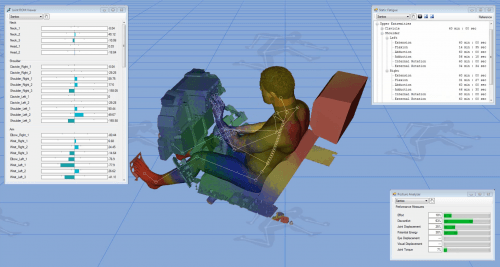 While today's warfighter profile is more diverse than ever, military systems are increasingly complex. New military technology embraces the idea of man-machine integration. Thus, human-centric design is more critical now than ever. And yet, new system design processes tend to front-load product development with traditional engineering practices. These practices cannot consider the warfighter until late in the design cycle. In fact, groups within the U.S. Department of Defense must continue working to address warfighter-centric issues that exist not only in legacy systems, but also new systems. In new systems, these issues could be dealt with much more cost effectively at the earliest stages of design.
Solution
Santos technologies can accurately predict modern warfighter use of weapon systems and equipment. Our virtual humans can be equipped with all the required warfighter equipment before running through simulations that can identify problem areas from safety to usability to sightlines.
Of the $50M+ in externally funded research that has gone into the development of Santos technologies, 60 percent of that funding has come from the U.S. Department of Defense (DOD) to focus specifically on addressing this issue. In honor of that investment, the Santos Warfighter Program makes it easy for the DOD to adopt Santos technologies.
Military Design White Paper: Optimizing Military Design Through Warfighter-Centric Trade-Off Analysis