In a previous blog series (post #1 of which can be found here), I had said that traditional design processes do not include human-in-the-loop (HITL) evaluations until so late in a product's development cycle that change is no longer a realistic option.  While that series focused on just four examples, each from a different industry, SantosHuman Inc. (SHI) works with clients from many industries and the anecdotal evidence for that statement is overwhelming.
Blog series posted.  Next topic.  Moving on.
Or at least, I thought so until a recent client engagement provided an example so perfectly suited to that series that I found myself agitated that it wasn't included.  This post alleviates that agitation and, going forward, similar posts could serve as addendums to that series.  However, these addendum posts would be used sparingly and only for the most relevant examples because our experience at SHI indicates examples will continue to be plentiful.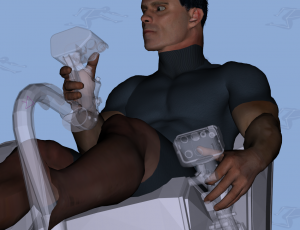 In this first addendum entry, a global manufacturer in a highly competitive industry redesigned the thumb-operated switchgear on a new product scheduled to be in production soon. They told us their usual approach to evaluating something like this requires a working physical prototype and can take between two and three months to complete. Early on they were notified that a prototype would not be available prior to production so their plan had been to perform the study as soon as the vehicle was in production.  The problem was that the company expected to be producing thousands of these vehicles every day when launched.
Let's review that last paragraph just in case one of your eyebrows isn't now several centimeters higher than the other. If the evaluations of the newly designed switchgear were to proceed as originally planned, tens of thousands of their products would be in dealerships and in the hands of new owners by the time the evaluations were complete. As you can imagine, the thought of having to address usability issues for tens of thousands of vehicles, coupled with the loss of market share that accompanies poor operator feedback in a highly competitive market, was causing considerable concern.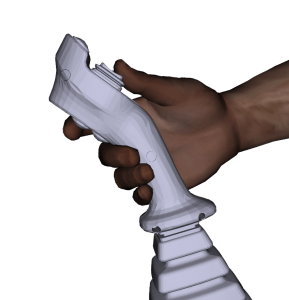 They contacted us hoping there might be some way to use just the CAD geometry to perform the switchgear usability evaluations prior to launch.
Once again, we see that traditional and pervasive approaches to product design not only value capability over usability, existing processes make it impossible to even consider usability until it's too late to do anything about it.
The good news?  As a result of development efforts SHI undertook in 2014 to respond to the needs of one of the world's largest consumer goods manufacturers (which you can read more about here*), Santos® capabilities include the ability to predict precision and power grasps.  As with all Santos® predictive models, this is a 1st principles approach to predicting grasps that not only affects – and is affected by – the entire body, it can simultaneously take into consideration other competing operator task requirements.
Our clients aren't interested in replicating what they can already do with the virtual mannequins that have been around for decades.  SantosHuman Inc.'s clients are looking for solutions to problems that would be impossible to solve without us.
Take a look at this unique capability demonstrated in an example use case and then let us know what you think.  We'd love to hear from you.
– S
https://www.santoshumaninc.com/wp-content/uploads/2019/05/PrecisionGraspingImage.png
879
1149
Steve Beck
https://www.santoshumaninc.com/wp-content/uploads/2018/03/SantosHuman_Logo_Final-1-300x117.png
Steve Beck
2019-05-20 07:58:37
2019-06-24 14:38:30
The Expense of Not Optimizing the HITL: Predictive Models for Precision Grasps