Texas A&M to Use Santos Technology for Seat Design & Fall Prevention Research
The new Industrial Engineering program at Texas A&M University—Corpus Christi (TAMUCC) will utilize Santos digital human modeling software in their growing programs for Human Factors and Digital Human Modeling. The powerful human behavior simulation capabilities of Santos Pro will support the university's research into fall prevention for the elderly and seat design in autonomous vehicles. They will also incorporate Santos into ergonomics courses through the Santos University Program.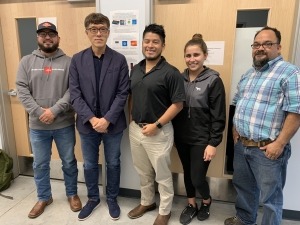 "We are excited to launch our graduate program in engineering with Santos as part of the framework for efficient research activities," said Bruce Lee, Ph.D., Assistant Professor of Engineering at TAMUCC. "Santos provides access to the only comprehensive approach to predicting human performance at a level of fidelity that is required for truly human-centric virtual design processes. These incredible capabilities will greatly benefit our research."
Dr. Lee and the TAMUCC research group plan to use Santos technologies to pursue vehicle seat design recommendations for autonomous vehicles. Their other research initiative involves providing assistive technology and fall prevention measures to the aging population.
"Santos technologies allow us to analyze and predict human motions and postures for ergonomic purposes," said Dr. Lee. "We will be able to build a robust research platform for our study of both autonomous vehicles and gerontology. "
Steve Beck, CEO with SantosHuman Inc., is excited to welcome TAMUCC the list of Santos University Partners.
"It's an honor to welcome another outstanding university in the U.S. to the Santos University Program," Beck said. "We look forward to seeing what their faculty and students can achieve in their research of human-centric design for the elderly and the growing field of smart vehicles."
The Santos University Program partners with institutes of higher education to provide its products for non-commercial, educational, and/or research purposes. The most recent partnerships in Europe and North and South America now include Nipissing University, University of Michigan-Dearborn, University of California-Berkeley, Oregon State University, Politecnico di Milano, Pontificia Universidad Javeriana, the University of Waterloo, the University of Ontario Institute of Technology and Lakehead University.
https://www.santoshumaninc.com/wp-content/uploads/2020/02/TAMUCC-logo-e1582556104501.png
750
1220
The Santos Institute
https://www.santoshumaninc.com/wp-content/uploads/2018/03/SantosHuman_Logo_Final-1-300x117.png
The Santos Institute
2020-02-24 08:14:13
2020-02-25 14:53:29
Texas A&M to Use Santos Technology for Seat Design & Fall Prevention Research